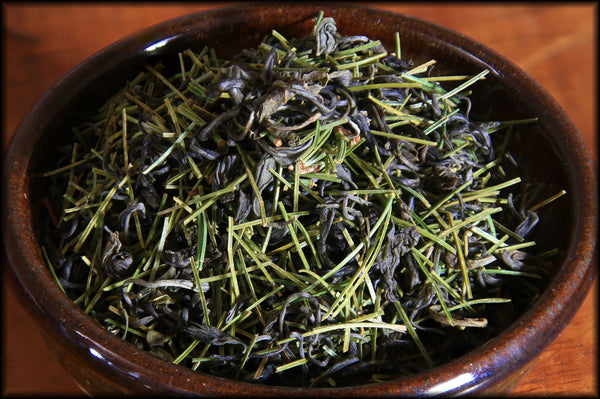 The Sleeping Bear Blend
Our August harvest White Pine was harvested the afternoon of July 31st in White Pine, Michigan.
Because of ideal growing conditions, we were able to sustainably harvest a blend of older needles as well as plentiful new growth. The new growth needles as well as a subtle roast makes this months Sleeping Bear bright, creamy, and incredibly sweet. This was our largest harvest yet!
This month's harvest yields only 20 ounces of The Sleeping Bear Blend, so get yours while it lasts!
Imagine a place with rolling pine forests fringed with open meadows and brambles of blackberry bushes just begging you to feed your senses. Imagine a place bursting with wildlife — a new ecological wonder behind every blossoming cherry tree. Imagine being knee-deep in crystal-clear water with pine needles floating by and spring in the air. Imagine love. Imagine my home: The Sleeping Bear Dunes.
Every sip of this tea brings with it a burning passion. Fresh, sweet, green pine needles are sustainably wildcrafted from the deepest reaches of the Michigan wilderness and processed as a lightly roasted green tea. After cutting and roasting, the needles are mixed with our purely blissful green tea blend, River Rain.
The final product is a lovely blend of green tea with the perfect amount of fresh pine flavor and a hint of jasmine. This tea is based off of the memory of a spring morning walk along Glen Arbor's Crystal River with the birds singing and otters splashing along that pure, beautiful water. I have created my masterpiece. I have put my heart and soul, The Sleeping Bear Dunes, in a cup.
 Breathe life, sip inspiration, and let my beautiful homeland warm your soul.