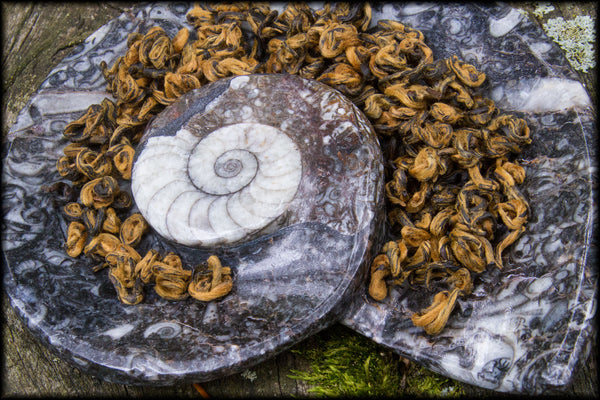 Earl Gold, Spring 2023
Quick Sips: An earl grey made with our Golden Snail black tea, this one brings an awesome balance between rich, complex black tea and fruity, sweet bergamot.

Normally this is aged 30 days before release, but to get this available to you faster, this batch is available fresh on the 21st of October. I have taste tested in the past and there is a very minimal difference, though I would still recommend rationing it slowly, as I feel it does improve with time!
- - - - - - - - - - - - - - - - - - - -
THE INSPIRATION
Earl Gold is a beautiful example of what happens when classic tea and passion for exceptional balance and quality come together. The goal for this tea was to create an Earl Grey with a high quality gold bud Yunnan black as the base...one that would be designed for gong fu brewing but also hold up to western style with milk and sugar. I started with the well-loved Golden Snail and paired it with pure cold-pressed oil of bergamot before aging for 30 days. The balance of this blend is remarkable, with the base tea shining through and the bergamot ever-present. Every steep of Earl Gold brings forth a new dimension of malt, cocoa, and citrus notes with a strong natural sweetness and incredible heady aroma. I highly recommend enjoying Earl Gold gong fu style to fully experience the beauty of this blend!
-
Ingredients: Black tea & cold-pressed bergamot oil