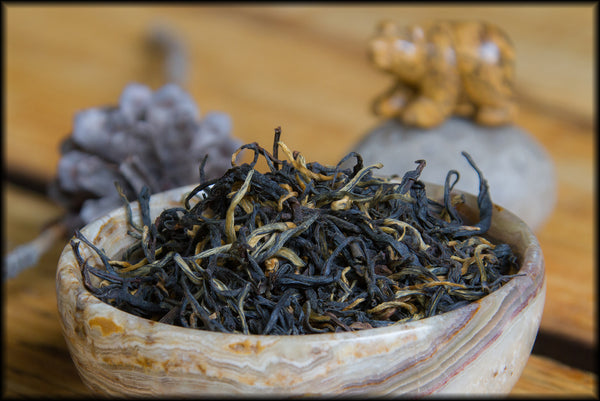 Blackbear, Spring 2018
Quick Sips: A traveling tea...this takes me to camping trips up north. The crackling fire, the rich earth, the magic of the wood...it's all here if you close your eyes! :-)
- - - - - - - - - - - - - - - - - - - -
The wildwood within me yearns
For a trillium in the million ferns
For a sweet song of dark tonight
In the soft unspoken fire light.
My mother, Forest, wakes my wonder
By moonlit dance and distant thunder
Her serenade has called to me
And so I listen, endlessly.


Blackbear was a project two years in the making — the goal being the perfect smoky black tea. A lot of work went into the creation of Blackbear, with at least 20-30 different teas being tested together in various combinations until the perfect blend was achieved. Reminiscent of Michigan's Upper Peninsula camping and everything that I love about forests, Blackbear stirs deep within me, reminding me of my love for The Mother.
The aroma is of a forest awakening by the rains of April. A mossy rich forest loam with young wild herbs takes the front with a pine and oak campfire weaving through. It's like waking up in the morning and foraging closeby last nights campfire. The first sip opens with sweet wild berries and caramel, with balanced smoke layered with pine resin and hints of scotch. Warm petrichor from last nights drizzle fills the room as the sunlight hits the wet leaves, littered with half-eaten raspberries and mulberries. Honey notes are strong throughout the entire experience and a mouthcoating sweetness that reminds me of maple syrup lingers through the finish. 
Overall, a beautifully balanced, complex, and heartwarming blend that will have a permanent spot at Whispering Pines Tea Company.