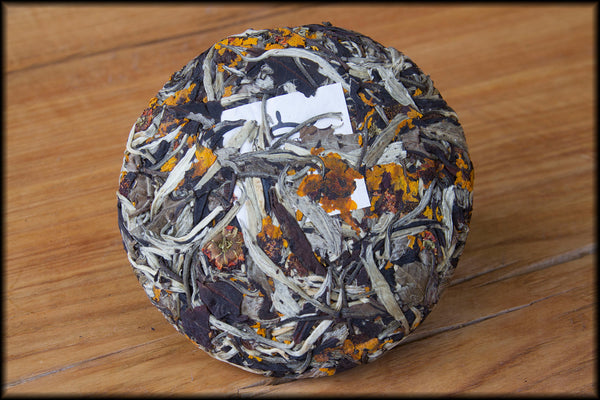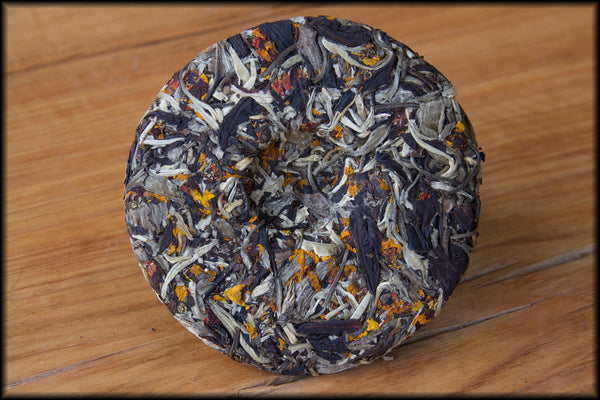 2015 Moonlight Sonata - 100g Cake
THE INSPIRATION
I think that she's the golden leaves that dance along the autumn breeze and the mellow magic splintered moonlight through the emerald summer trees. Her eyes could hold my gaze for days, send rivers crashing through my veins and they are enough to fall in love with every freckle on her face. We'll dance through fields, I'll laugh with her and her hair will smell of lavender. I'll steal her shoes and run away just so I can look back at her. Every moment and every kiss will overflow my heart with bliss, and if she asks me what I want from life, "It's nothing more than this."

From the old wild trees of Jinggu and the high mountains of Kunlun comes a hauntingly beautiful blend of moonlight white tea and snow chrysanthemum flowers. Originally blended to steal the hearts of faeries, Moonlight Sonata is as beautiful a composition to the mind as it is to the tongue and nose. The moonlight white tea carries a beautiful cha qi that holds back for the first few infusions — the same time the snow chrysanthemums are inducing relaxation to the mind and body. The aroma is calming, hinting strongly at wildflowers and petrichor.
Flavor wise, the best way to describe Moonlight Sonata is smooth, sweet, spiced honey drizzled into fresh white grape juice and infused with springtime wildflowers and a touch of tangerine. These 100g cakes consist of moonlight white tea and snow chrysanthemum flowers, both from spring 2015. They are ageable and will develop deeper, more malty base notes over the next decade, eventually tasting like a mix between an oolong and black!
*Out 2016, 12/C

-
Ingredients: Moonlight white tea & snow chrysanthemum flowers
-
Harvest: Spring 2015