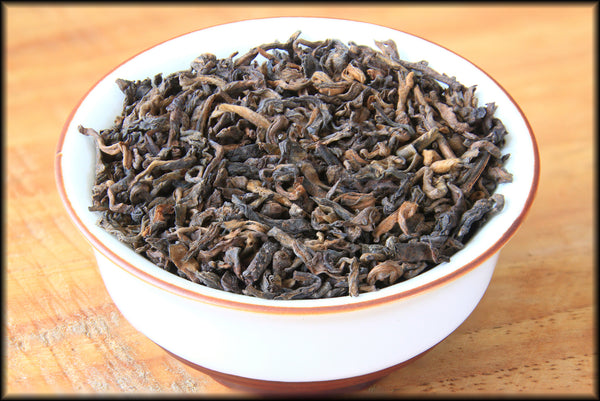 2014 Huron Te Ji Shou Pu-erh
Quick Sips: Very rich and warming while retaining a grounded, comforting feeling. Mushroom and merlot come through most for me. Has a nice bite to it as well being a medium fermentation.
- - - - - - - - - - - - - - - - - - - -
The 2014 Huron Te Ji Shou Pu-erh was harvested in Spring 2014 and fermented shortly afterwards. It is "te ji" grade, a smaller leaf size that brews up quite strong. As with our other offerings, 2014 Huron Te Ji is a lighter fermentation, which will allow it to benefit from long term aging. Despite its young age, this tea is quite ready for drinking now, brewing up with sweet, warm petrichor and pinewood notes, along with a chocolaty finish and light hints of merlot. One of the beautiful things about this tea is the purity of it, which can be noted in the taste as well as the pure, heartwarming cha qi.
Visit the Great Lakes Pu-erh page to learn more about the Great Lakes label.