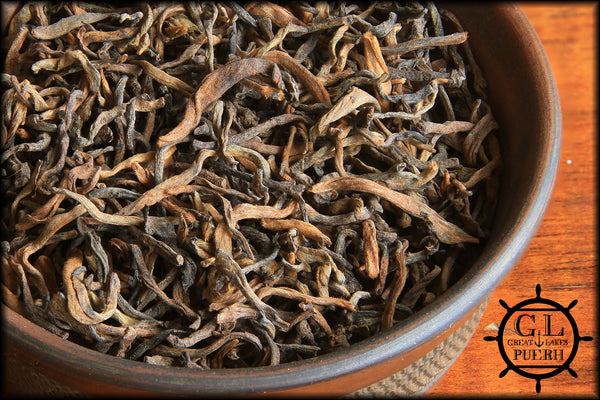 2012 Huron Gold Needle Shou Pu-erh
A beautiful pu-erh that was produced in Xishuangbanna province but stored away from the intense aging conditions there after production. All of the rough earthyness has faded already and this shou shows great potential for further aging. This high-grade loose shou pu-erh was an exciting find. Gold needle grade generally accounts for less than 0.5% of a fermentation batch, and is usually used sparingly to smooth out blends before pressing. Finding loose gold needle grade shou pu-erh is exceedingly difficult because of this.
2012 Huron Gold Needle is the silkiest ripe pu-erh I have ever tasted. It feels at though there isn't even tea in your mouth, and the flavors are being magically transported by a thick, weightless warm air. It floats across the tongue and down the throat on a carpet of moss, cocoa, and sweet fruit with a lasting creamy warmth in the aftertaste. A very tasty and high quality pu-erh, I'm very excited to see how this one develops a few years down the line!
Visit the Great Lakes Pu-erh page to learn more about the Great Lakes label.