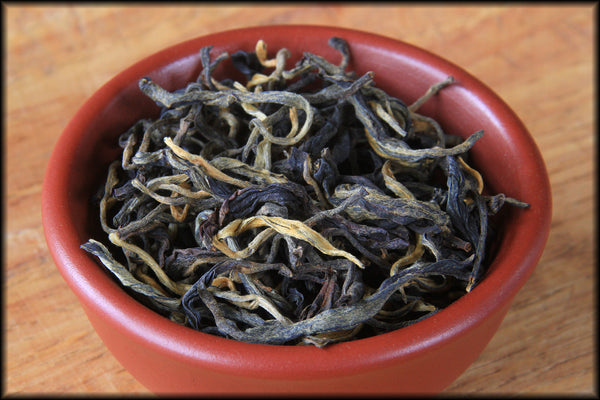 Ancient Spirit, Spring 2023
Quick Sips: There aren't many black teas I've come across that give me as much of a traveling experience than this one. Very reminiscent of old forests. There's spice, wood, berries, and so much more to find here.
- - - - - - - - - - - - - - - - - - - -
Straight out of the oldest tea forest in Yunnan comes the finest wildcrafted black tea we have had the pleasure to taste. Picked from wild trees up to 300 years old, Ancient Spirit is a pure embodiment of deep, ancient wilderness.
Toss the leaves into a warmed gaiwan and you take in the aromas of an old growth forest in the summertime, with powerful notes of warm wood, citrus, and medicinal herbs among a slight floral background. The wet leaves smell herbaceous and hint at aged tobacco, malt, and wild berries.
The taste is huge and complex. Medicinal herbs and flowers take the front, with orchid and jasmine being the most prominent florals. A grounding bitter note pulls it together with a middle of tart and sweet — black cherry and elderberry. Near the finish there are notes of spruce and a touch of mushroom, finishing with a light mineral bite and spice not unlike that of fresh wintergreen berries. You may find yourself lost in the taste and the powerful aroma of petrichor, not noticing the immense energy this tea brings with it!
Please take time to savor this tea…it is truly a huge gift from nature and I have never been more excited to share such an incredible tea with my customers. Take from it what you will…but for me, this tea is transcendent and brings me back to my roots.
---