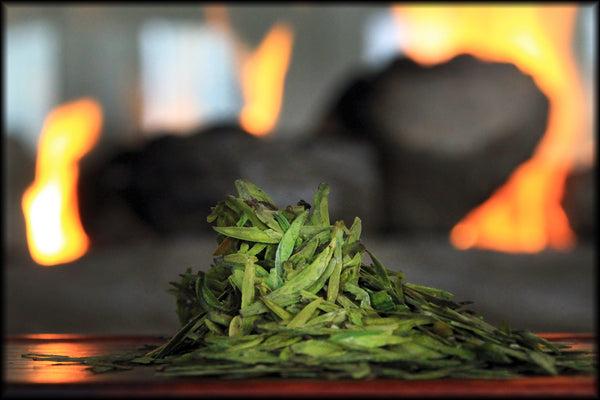 The Mother of Dragons, Jasmine Scented Dragonwell Green Tea, 1/2oz, Spring 2020
I'll be honest, when I found out that this tea existed, I was skeptical. To find a good, high grade dragonwell green tea is a challenge in itself, as is finding well-scented jasmine green teas. One of the major concerns with a jasmine dragonwell was obvious to me...because dragonwell is so light, I was worried about the jasmine drowning out the dragon.
Then I spent a moment with The Mother of Dragons.
She is not of flowers, despite her beauty. The balance between the dragon and the flower is unlike most everything I have experienced. Jasmine scented green teas generally taste like, well, like jasmine scented green teas. This one is different...it's like the tea grew intertwined with jasmine vines, with a soft sweetness coating the tongue on every sip, jasmine barely there, but so deeply rooted that you can't help but feel it. The leaves enliven with bright green hues and a thick mouthfeel, reminding you that you are drinking authentic high-grade dragonwell, all while leaving just a hint, a touch of that warm jasmine.
I'm not sure I can say much more about this. It's hands down the most well-balanced jasmine green tea I've come across. Fit for a throne? Maybe in some other lifetime where tea was served instead of wine and the dragons would only be found in your cup.
---