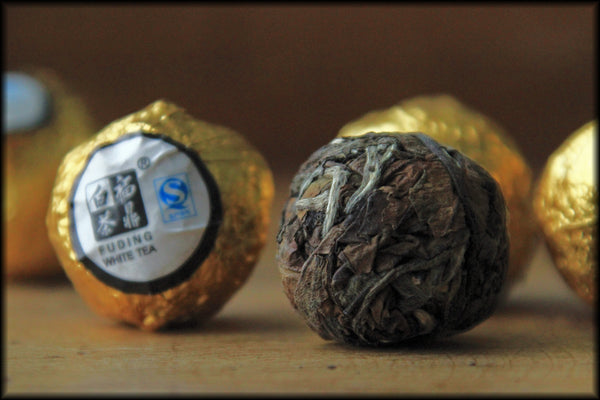 2012 Aged Gong Mei White Tea
These little balls are perfect for gongfu brewing! They have been aged since 2012 from sun-dried white tea, and have developed a super smooth and unique character.
The taste opens with a light honey and fruit note, and continues with some florals and malt. As you steep this, the viscosity will thicken and the base notes will grow stronger.
There is no bitterness or astringency, no matter how you steep these. You can steep shorter lengths for a lighter, more white-tea-like experience, or longer to give you an almost black tea characteristic!
Price is per ~5g ball. To keep the price on these low, there is no additional packaging for them, so steeping information will be listed below:
Recommended gongfu style: use 1 ball per 100ml gaiwan and 190ºF water. Start by steeping for 45 seconds to get the ball to open up a bit. Brew for color from there on out, anywhere from a light amber to a dark amber is enjoyable! For later steeps, increase temperature up to boiling.
Recommended western style: Place one ball in a 16oz mug or teapot (teapot is ideal). Add 190ºF water to it. Allow to cool to drinking temperature, enjoy 2/3 of the tea, then refill with water. Once this stops producing, you can boil the leaves in a small pot over the stove for 10 minutes (or until color is a medium-dark amber). If you are using a mug, it's helpful to have a spoon or other utensil on hand to help hold the leaves back as you drink.
---